ISSA Personal Trainer Certification Review
Is ISSA Personal Trainer Certification worth it?
The International Sports Sciences Association (ISSA) is a respected organization that provides certifications for fitness professionals from anywhere in the world. This includes their popular ISSA-CPT program for aspiring personal trainers.
In this ISSA personal trainer certification review, I'll take a closer look at the program. How comprehensive is the learning material? Is the certification widely accepted by gyms? And how does it compare to other certifying organizations? Let's find out.
One of the first glaring distinctions with this cert is the fact that it is done strictly and completely online. Because of this, it is also one of the few personal trainer certs that can be studied and completed outside of the United States.
This certification definitely earns the "International" label, with trainers as far out as South America, Australia, Europe, and from all around the world getting their hands on it.
Its accessibility doesn't steal away from the level of industry credibility that this certification has.
Ranked consistently as one of the best personal trainer programs alongside ACE, NASM, ACSM, and NSCA, ISSA is one of the most sought-after certifications by gyms and commercial facility owners.
The depth of well-researched knowledge is a perfect balance of all aspects of fitness, including a decent dedication towards nutrition and special population groups.
ISSA was founded in 1988 to increase the fitness of the people on our planet by helping more fitness professionals enjoy a successful career in fitness. The ISSA is the world leader in fitness education and delivers comprehensive, cognitive, and practical distance education for fitness professionals, grounded in industry research, using both traditional and innovative modalities. Founded by leading fitness researchers, PhDs, and elite practitioners, the ISSA now offers 24 fitness certifications and has certified over 400,000 trainers in 174 countries.
ISSA General Info & Overview
| Specification | Value |
| --- | --- |
| | Since they started in 1988, ISSA now offers 24 fitness certifications and has certified over 400,000 trainers in 174 countries |
| | Support via phone, chat, and email. They are always on hand to answer your questions. |
| | 18+; AED/CPR/First Aid; High School Diploma (or equivalent) |
| | |
| | $599 (Includes All Materials) |
| | First is free with program; $50 for Additional Retests |
| | |
| | |
| | |
| | |
The International Sports Sciences Association was established over 30 years ago. It's certainly not one of those shady "online certs" that's popped up over the last few years, and it has a strong reputation in the fitness industry.
The organization offers 12 fitness certifications, including the flagship CPT program. Other specializations include:
Fitness Nutrition
Group Fitness
Senior Fitness
Strength and Conditioning
Corrective Exercise
Bodybuilding
Exercise Therapy
Youth Fitness
Sports Nutrition
This wide range of certifications is great if you want to focus on a specific type of client after betting certified. They also count towards your CEUs.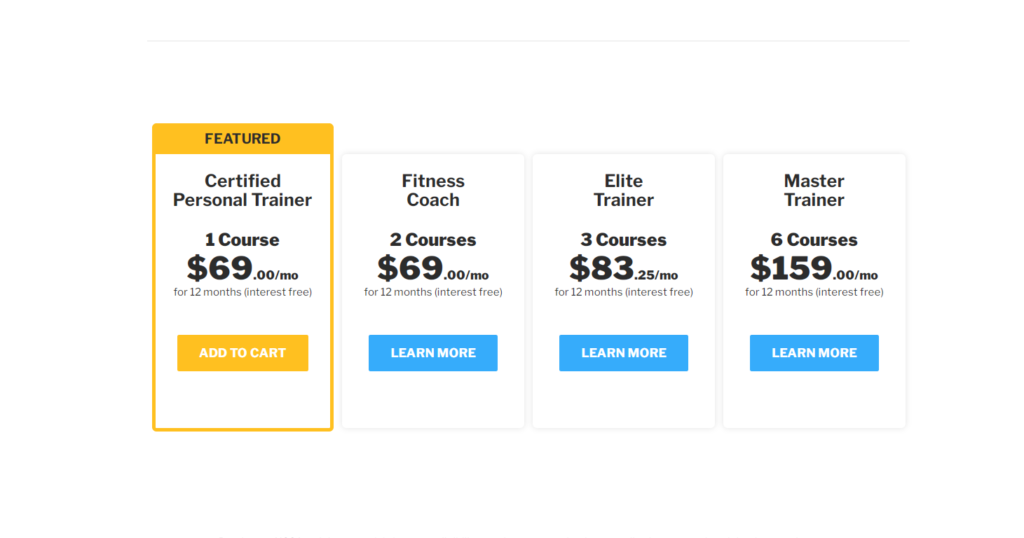 The ISSA personal trainer certification program costs $699 and even includes options that are interest-free payments. You can also frequently find the ISSA CPT for $799 with the addition of a free nutrition certification. These are the two most common prices for the ISSA CFT.
Check out the most current prices here.
An option I recommend is the CPT/Nutrition deal. For just $799, you can grab the ISSA CPT and ISSA Nutrition Certification.
For this price, you will receive entrance to both the CPT and Nutrition examinations, their primary textbooks (including a business guide), and multiple online training resources.
The resources include career guidance and trainer tools which will be useful to you once you set off as a certified trainer.
The Master Trainer and Elite Trainer packages will set you back $2,997 and $1,598 respectively.
Be sure to check frequently as ISSA very often slashes fees and offers regular discounts.
Who says the ISSA personal trainer certification costs are too high?
Nope; they are within the industry standard, and what's more; you can get an ISSA discount code too!
ISSA is accredited by the NCCA and is also accredited by Distance Education Accrediting Commission (DEAC). This commission was called the DEAC prior to now and its duty as a certification programs body has not changed much. 
Both NCCA and DEAC are credible and legitimate expert bodies, those in the know will have no problem with neither, but NCCA is admittedly more recognized.
ISSA is one of the top-tier certifying agencies out there today and it shows by being accredited by not only one, but two very recognized accreditation organizations.
Registration and Exam Criteria
As with most extended learning programs, you need to be 18 years or older to qualify for ISSA as well as hold a high school diploma or equivalent and CPR/AED certification.
The ISSA expects you to understand basic fitness nutrition, healthy living, human anatomy, physiology, fitness and health, and a bit of sports science as you pursue its certificate programs
So in order to get certified, you need to complete and submit a CPR/AED certification.
As mentioned earlier, ISSA provides an online CPR/AED First Aid course for you to complete as part of your study package.
The untimed exam itself is a 200-question multiple-choice exam with 6 essay exams. It's without a proctor and self-paced open-book exam. Whereas the NCCA exam offered is a 140-question multiple-choice proctored exam.
So, all you need to do after going through the ISSA login is to click the right answer to each question as they come along.
Your ISSA final exam is not the end; there is recertification required in months to come.
It is standard practice to recertify once you've gained your trainer qualifications. In the case of ISSA, recertification happens every two years.
You will need to show proof of continued education in order to recertify. You can do this by attending workshops or certifying with different certs across the board.
ISSA also has some handy recertification resources that are crucial to your continuing education units.
ISSA has one of the cheapest recertification fees at just $75 compared to other agencies and programs that will have you pay over $100 dollars for your credential renewal.
Paying the fee ensures you can complete the online ISSA certification, as required to become a real fitness and health professional.
The best part is that you have months to complete the journey of an ISSA test prep and remaining ISSA certified. Just stay in the industry, and make sure your ISSA personal trainer reviews and testimonials from clients are looking up.
With your full name, email, and other details in place, registering for the online exam, among other things ISSA also offers, will be a piece of cake towards your recertification.
How Long Does It Take to Pass ISSA?
ISSA estimates that most students need 8-10 weeks to prepare for the exam. This assumes you can study for at least an hour each day. If you have prior experience or can dedicate more time to studying, you may be able to pass faster.
As the exam is online, you aren't limited by pre-determined testing dates. It's important to feel confident that you know the syllabus before taking the exam though.
From the time that you purchase the ISSA certification, you have two whole years to study for and take the final exam. This again stands in contrast to other certs, which will offer something along the lines of just 90 days from when you register.
A range of physical and digital study materials are included with the ISSA CPT program. These include the main course textbook, study guide, workbook, and an online exercise lab.
The most important content is contained in "Fitness – The Complete Guide." This is a 759-page textbook with everything you need to know to pass the ISSA personal trainer exam. It's a hefty book but is relatively easy to read. The book is provided in both physical and digital formats.
Aside from the textbook, the online exercise lab is a useful addition to the program. It contains 3D animations of 250 exercises, helping you learn the correct technique and form.
While the textbook contains excellent information. The included materials are of high quality though and provide everything you need to pass.
What can you expect to learn in the textbook and other materials though?
The training materials cover the following broad areas:
Program Development – ISSA teaches how to design programs for a wide range of clients. This is essential for getting results, as the best program for an athletic person is different from someone who has never been to the gym. Topics covered include basic assessment, training principles, periodization, and training loads.
Anatomy and Physiology – It's vital for personal trainers to understand anatomy and physiology. The course textbook covers topics such as metabolism, the musculoskeletal system, and physiology.
Physical Fitness and Health – A personal training certificate is not a license to practice medicine or a clinical degree. It's still important, however, to understand how a person's health affects their ability to exercise.
Nutrition – ISSA offers a separate certification for fitness nutrition, but the CPT program covers the basics.
Kinesiology and Biomechanics – ISSA students are taught a foundational knowledge of how the body moves. You'll also learn musculoskeletal deviations and the mechanics of strength. The 3D exercise animations teach you to apply this information to real-world situations.
Fitness for All. Once you have a solid understanding of the other topics, the textbook teaches how to design fitness programs for a diverse range of clients. These include older adults and young people. There are also sections and case studies on designing programs for people with diabetes, hypertension, arthritis, and asthma.
All the course materials are available online, so you can start studying immediately after purchasing. ISSA also ships you hard copies of the textbook and study guide.
An advantage ISSA has over purely self-study programs is the support provided. Unlimited educational support is included in the price, and this continues even after you've passed the exam. You also get access to an online forum, where you can ask other trainers and ISSA staff questions about the course material or other professional challenges.
I also like that ISSA has included a marketing and business guide. If you plan to develop an independent client list once you are certified, this shows you how to get your first customers.
There are thousands of ISSA success stories from all over the world that has helped them to become certified personal trainers.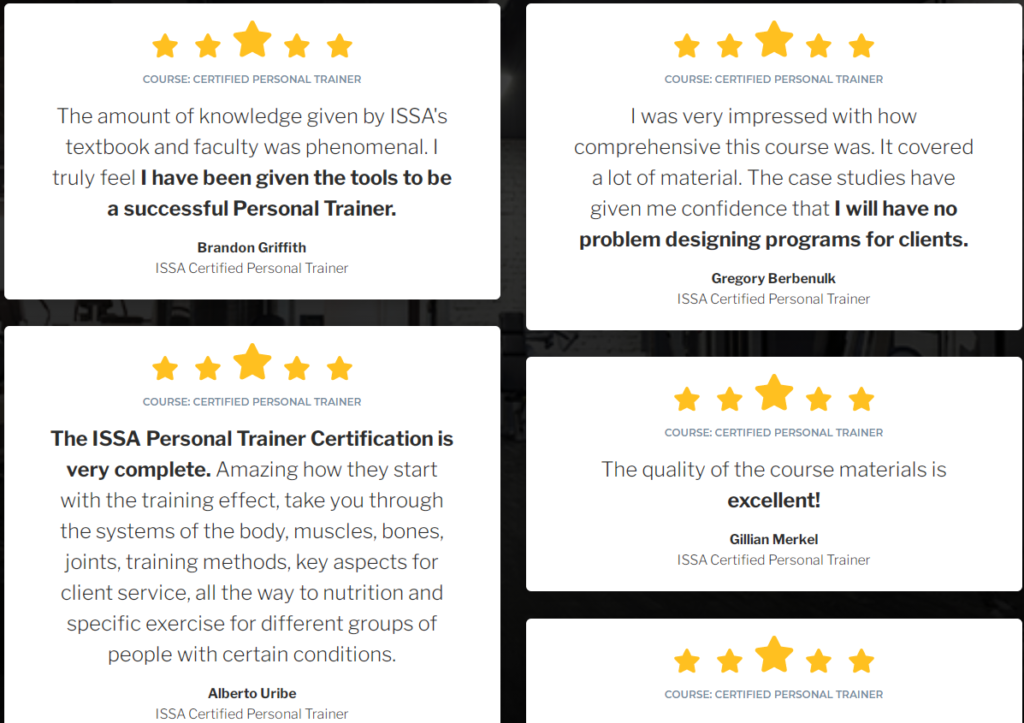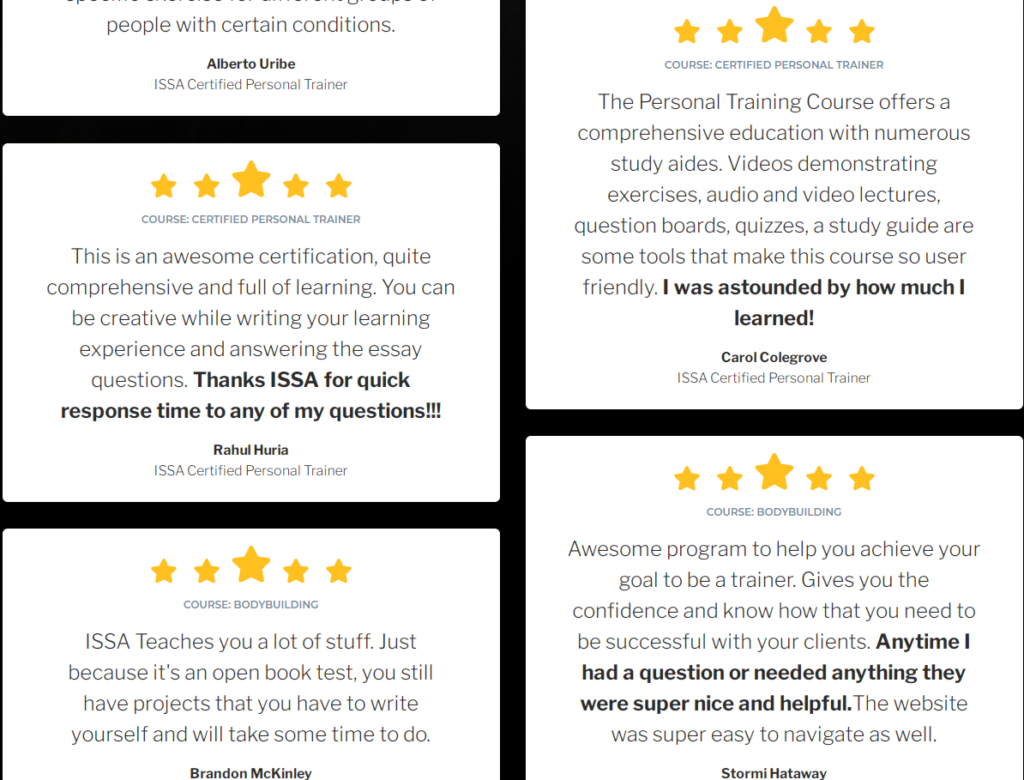 Excellent Reviews of ISSA on Trustpilot

ISSA is rated as excellent on Trustpilot and has a rating of 4.8 out of 5 as you can see here
The ISSA personal training certification is an excellent program – especially if you prefer to take the exam online. While the open-book test is easier in some regards, the inclusion of short essay questions balances this out. ISSA also offers plenty of scope for future specialization, including their Master and Elite programs.
Another advantage is the price. At $699 for all materials, exam, and a retake, it provides great value. The organization also provides a well-rounded textbook, useful training materials, and great support. I especially like the extra material on marketing and running a PT business, as this is often overlooked by certifications.
You can become an ISSA certified trainer in a few months if you put your heart to it. According to the Bureau of Labor Statistics, the median income per year for PTs was $40,510 per year, based on 2020 figures, with the top 10 percent earning bracket earning over $75,520 per year.
Now you've got all you need to get started. So, make a move today and become a certified personal trainer.
Disclosure of earnings: we use affiliate links in some of the personal trainer certification sites that appear on this page. This helps our site cover the costs of the site, Thanks for your support. Read more