NASM Personal Trainer Certification Review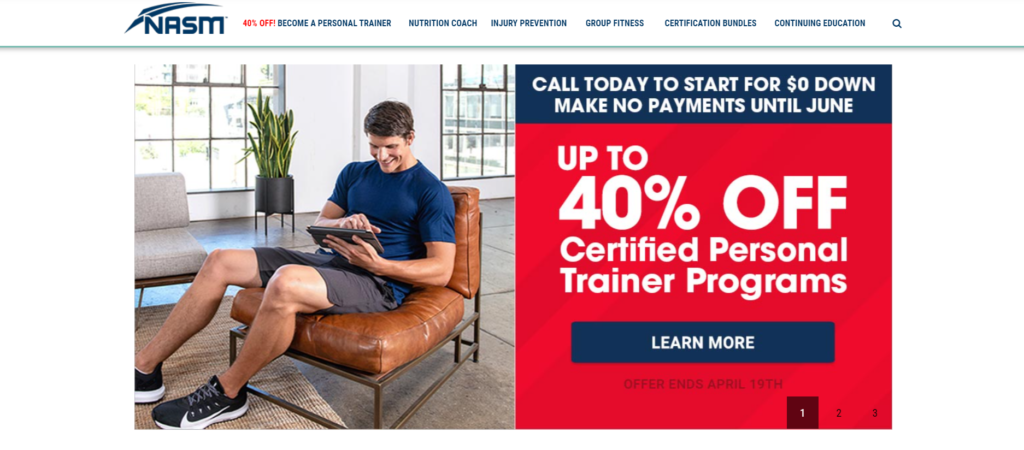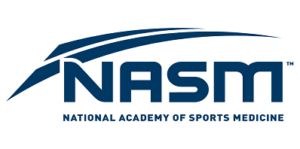 Learn How to Jump-Start Your Career
The National Academy of Sports Medicine (NASM) is one of the most popular organizations for gaining a personal training certification. The NASM-CPT program is NCCA-accredited, widely recognized, and based on the organization's Optimum Performance Training model.
The National Academy of Sports Medicine, NASM, is a certifying agency established in 1987 and fully registered with the National Commission for Certifying Agencies (NCCA) for compliance with the set standard.
Since its inception, it has grown to become one of the most prestigious certifications you can choose from as far as exercise science is concerned. In the last 10 years, NASM has certified and recertified over 190,000 personal trainers.
NASM General Info & Overview
| Specifications | Value |
| --- | --- |
| | Widely accepted, so you'll be highly employable, and great training materials. |
| | 18+; AED/CPR; High School Diploma (or equivalent) |
| | |
| | |
| | $699 (Includes Self-Study Program) |
| | |
| | |
| | |
| | |
| | |
Best CPT Certification Sites
NASM is a well-respected organization that offers a range of fitness credentials. In the unregulated and confusing world of personal fitness training, they are an established name that trains professionals to attain science-backed credentials.
NASM isn't shy about its history and programs either. The official website claims it is the "premier evidence-based certified personal training program" – which is a bold claim!
This isn't just marketing talk though. The organization has certified and recertified over 190,000 trainers in the last 10 years. This is an astonishing number – and it continues to grow. NASM is also one of the most well-known certifications in the industry, so it's widely accepted in gyms.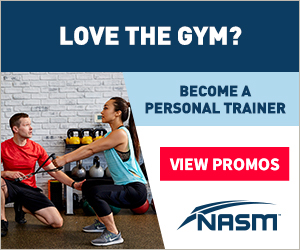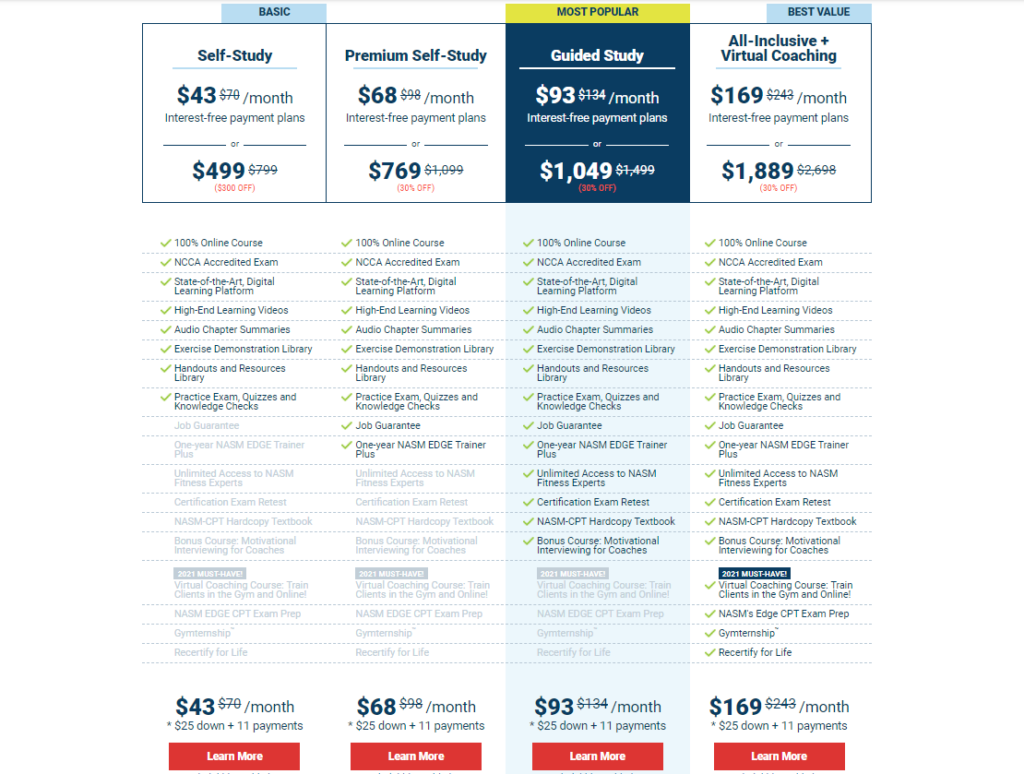 There are currently four packages available. All include an exam token and core training materials, but higher-priced options have more materials, support, and perks.
Self-Study with Exam ($499/Limited Time $300 OFF). This is the basic package and doesn't provide access to mentors. The self-study program includes the testing exam, textbook (hard copy and PDF), lecture videos, cueing library, exercise library, practice exams, quizzes, and a study guide, so there is plenty of material to learn from. While the self-study program isn't cheap, it's decent value for a high-quality certification. If you're happy to learn independently, this is probably the best package.

Premium Self-Study with Exam ($799/Limited Time 30% OFF). The premium self-study option includes everything in the basic program, plus flashcard bundles, learning activities, and an anatomy memorization activity. While these are useful learning materials, I'm not sure they are worth $300 extra.
Guided Study with Exam – The Most Popular Program ($1099/Limited Time 30% OFF). In addition to the self-study material, this option comes with exam prep and content webinars. Most importantly, you get access to a mentor and coach, a live workshop, and discussion questions. If you think you'll need extra support when learning the exam material, this option provides much more interaction and opportunity to get feedback.
All-Inclusive ($1999/Limited Time 30% OFF). The All-Inclusive program is NASM's premium CPT option – and it's extremely expensive. In addition to everything in the other programs, you also get a retest voucher and access to the CPT development program. This entitles you to 80 hours of on-site experience with actual clients, along with mentoring and various other perks. The CPT Development Program provides an opportunity to get real experience and tutoring from experts, which isn't the case with most certifications. The All-Inclusive package also includes a job guarantee: if you're eligible and complete the CPT development program and don't find a job within 90 days, the cost of the Development Program will be refunded.
Since prices change frequently, check out the current prices here >>>
The NASM personal training certification is licensed by the National Commission for Certifying Agencies (NCCA). The NCCA is a broadly perceived organization that accredits certification programs that can meet and follow its guidelines.
The mission of NCCA is to assist with guaranteeing the wellbeing, government assistance, and security of general society through the accreditation of affirmation programs that show proficient skill. Its motivation is to give people in general and different partners the methods by which to recognize accreditation programs that serve their capability affirmation needs in a profession.
The association is additionally partnered together with the Athletics and Fitness Association of America (AFAA) and Premier Global in the UK.
Test Format and Locations
The test contains 120 numerous choice questions, yet just 100 of these are stamped. The other 20 are for NASM's examination and don't count towards your score. Every test lasts two hours and you should get basically 70% to pass.
Tests are controlled by PSIExams, so you need to get in touch with them to plan your date. You can enlist on the web or via telephone. PSI runs various test places nationally and globally, although they will in general be found in huge urban communities.
What the exam entails? How hard is it?
While the NASM test isn't that difficult, and it's anything but the hardest, it's harder than numerous other certifications. This is something worth being thankful for, as it makes the cert more significant, however, ensure you're prepared and give yourself a lot of time to consider.
I can't give particular tips about the test, as that would be cheating. However, you'll have to consider everything while studying, however – and ensure you get it, not simply memorize. Anticipate inquiries on all parts of the schedule, including evaluation, practice method, program plan, customer connections, and nourishment.
Specifically, ensure you know the capacity and area of muscles, comprehend postural uneven characters, and have strong information on muscle activation during exercise. I strongly suggest taking the training test, as this is an extraordinary method to check whether you're prepared (even though you can never ensure the trouble of the training test versus genuine test is by and large something very similar). There's also the Pocket Prep NASM test app with more than 500 practice questions.
One thing to note is that NASM doesn't deliver test scores. That implies that you will not realize that you were so near passing. I wish all certificate schools would give input on your outcomes, however, this can cause issues with individuals cheating in their retakes.
The Optimum Training Model is a fitness training model created by NASM.
The OPT Model is an activity exercise preparing model that is based on scientific proof that sends a person through five preparing measures.
Taking a customer through the ideal training execution model makes everything extremely simple, protected, and useful simultaneously so they can see the results of their work.
The OPT model has five stages:
Stage 1: Stabilization Endurance – This is the fundamental stage. It's basically utilized for the de-conditioned stage. The objective is to construct a strong foundation on correcting muscular imbalances, prior to handling the other stages.
Stage 2: Strength Endurance – Once the client has fostered an essential degree of adjustment, stage two starts to develop fortitude. Once more, the emphasis is on amending issues as opposed to expanding power.
Stage 3, 4, and 5: Hypertrophy, Maximal Strength, and Power. – Only when the customer has set up a strong foundation in security and strength does the OPT model beginning adding moves zeroed in on hypertrophy and force. The incorporated framework joins plyometric, center, equilibrium, adaptability, and receptive preparing with the standard cardiovascular and opposition preparing to make a decent and complete program.
NASM Now Accept International Students
Are you located outside the USA, and you want to become a certified personal trainer?
After effectively helping a large number of Americans get the essential information and afterward get certified as Personal Fitness Trainers, NASM now certifies PT experts in the UK.
Since partnering together with Premier Global, students in the UK would now be able to become NASM certified and create their own careers in the fitness industry.
Everything, the course content, test, support, and certificate are equivalent to those in the US.
As such, the standard is something similar.
Other than the UK, residents in nine other European nations, just as 13 others in Asia (and Saudi Arabia), can likewise get certified through NASM in their countries.
All NASM personal trainers are required to recertify their CPT certification every two years. It costs $99 and you'll have to earn 2.0 CEUs (20 contact hours) during this period, albeit 0.1 CEUs can be acquired from your CPR/AED certificate.
There's additionally a "Recertification forever" alternative which costs $329, in spite of the fact that you'll still need to finish a similar amount of CEUs.
There are various ways you can get CEUs. NASM offers a number of specializations, gatherings, live workshops, and classroom courses, which will count towards your CEU hours. There are NASM-supported courses that are controlled by outsider associations, and you can request a course regardless of whether it hasn't been endorsed at this point.
You can likewise get CEUs from courses finished at colleges. The number of CEUs relies upon the number of course units, so check with NASM before you start.
The two-year recertification period costing $99 additionally isn't excessively costly, despite the fact that there are less expensive choices as well.
How Long Does it Take to Pass NASM Exam?
This is hard to answer, as it relies upon your experience and how long you can commit to studying. Many may pass the exam in two months with bunches of difficult work, while others will require a half year or more before they are prepared.
Buying a study package bundle with NASM additionally includes an entry to the exam. This expires following a half year, despite the fact that in case you're not prepared you can pay again to get additional times. On the off chance that you come up short, retaking costs $199 except if your bundle incorporates a free retake.
When you pass the test, you will receive your certificate within 3-6 weeks. NASM additionally gives a digital certificate which can be gotten to within three working days.
The core materials are textbooks and an online study library (once in a while called eTeach or NASM app). These give a strong foundation of information when preparing the average client, including how to plan a program that is reasonable for individuals with medical conditions. This is fundamental while giving individuals personal training services.
So, understand that the NASM-CPT certification centers around the essentials of program creation. You will not learn inventive strategies or progressed techniques – that is put something aside for the specializations.
All things considered, you're educated on the basic information needed to make powerful and safe schedules for the normal individual. NASM works really hard of showing the foundations of personal training – and this information will be helpful all through your fitness career.
The top-level of earnings was with NASM, at $41,598 yearly. It was followed intently by ACE at $41,546. The others were beneath the $40k a year compensation. The significant thing to note is that these are simply averages; your capacity to be successful enormously relies upon your business model and less about the words after your name. In any case, it is fascinating to take note of that on average, NASM coaches make the most.
There are thousands of NASM success stories from all over the world that have helped them to become certified personal trainers.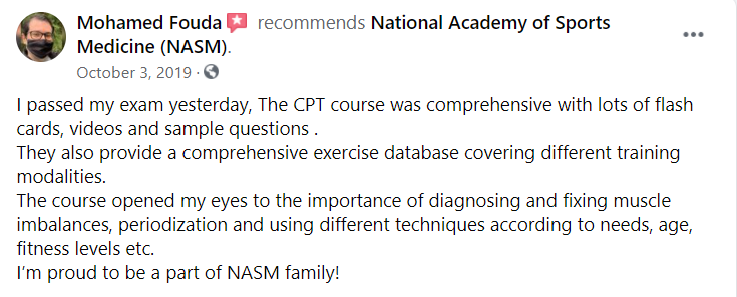 In my opinion, the NASM CPT certification is one of the top certifications in the fitness industry. It's a great certification that focuses on corrective training and muscle imbalances that helps to build a strong foundation with your clients. Their OPT model also gives you more options to work with a diverse number of clients, which includes athletes and sedentary people.
The biggest drawback of NASM is that it's the most expensive program in the CPT field, especially if you want access to a mentor, extra training materials, and live workshops. Their exam is also more difficult and they charge for retesting.
NASM is an excellent choice when it comes to career prospects and employment since it's widely accepted. They offer a job guarantee as an addition after you are certified which will help you get hired right away.
If fitness is your passion and you like helping others then I recommend the NASM CPT certification. Start your new career now!
Disclosure of earnings: we use affiliate links in some of the CPT certification sites that appear on this page. This helps our site cover the costs of the site, Thanks for your support. Read more