When you consider that every human being spends a third of their lifetime sleeping, it's no surprise that the way you sleep has a profound impact on your physical and mental well-being. 
Depending on the sleeping position, health can be positively or negatively influenced and pain can be alleviated or increased. We've rounded up specialist recommendations on the best sleeping positions for different pain conditions:
If you experience shoulder pain during or after sleep, the best sleeping position for you is on your back. The body weight is distributed evenly and there is no pressure on a specific part of the body. A thin pillow is best suited as head support (an orthopedic pillow would be particularly advantageous).
If you now place a second pillow on your stomach and put your arms around it, your shoulders are relieved as much as possible. If you don't like sleeping on your back, you can lie on the side where your shoulder doesn't hurt. Pull your legs up towards your stomach and put a pillow between your knees. If you have shoulder pain, avoid sleeping with your hand under your head, as this position puts the shoulder in an unnatural position.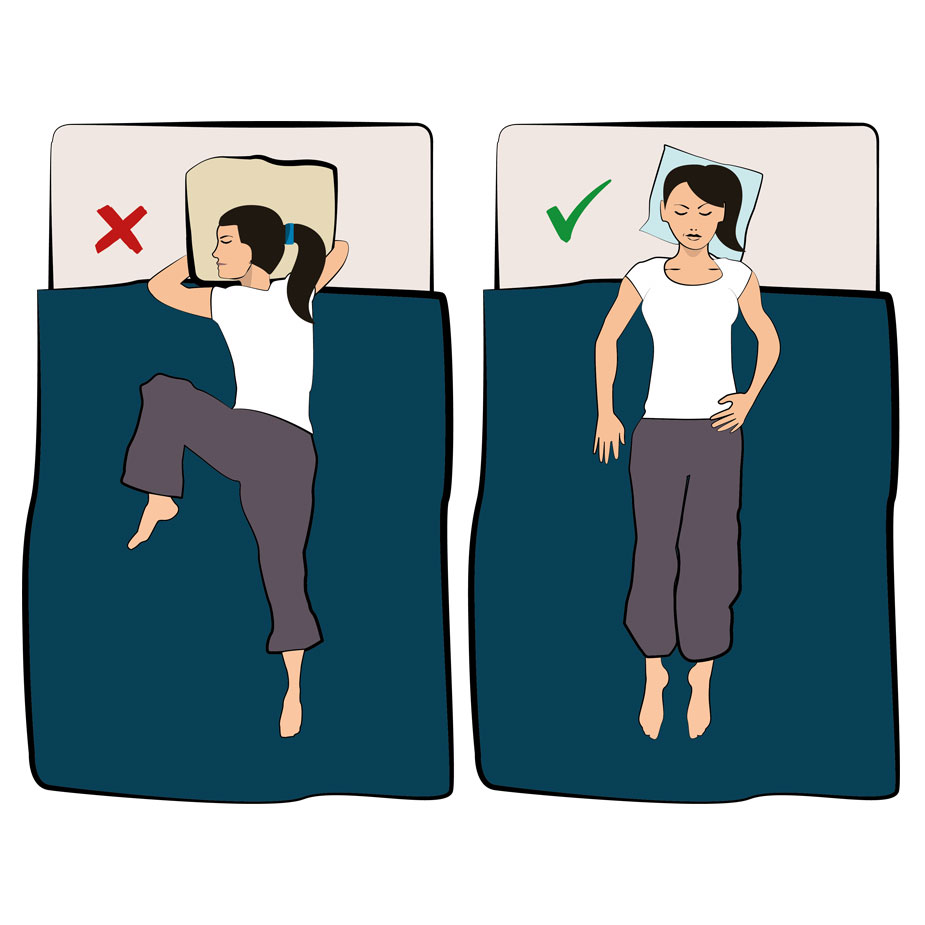 Even with this type of pain, the best sleeping position is on your back. It is particularly important to encourage the natural curvature of the spine, and a pillow under the knees can help. In addition, place a small rolled-up towel under the small of your back for relief. 
If you prefer to sleep on your side, it is best to pull your legs slightly towards your chest and place a pillow between your knees. Sleeping on your stomach puts strain on your back and should therefore be avoided. However, if no other position is possible for you, you can place a pillow under your lower abdomen and pelvis to reduce the strain. You should also use a rather hard mattress if you have back pain.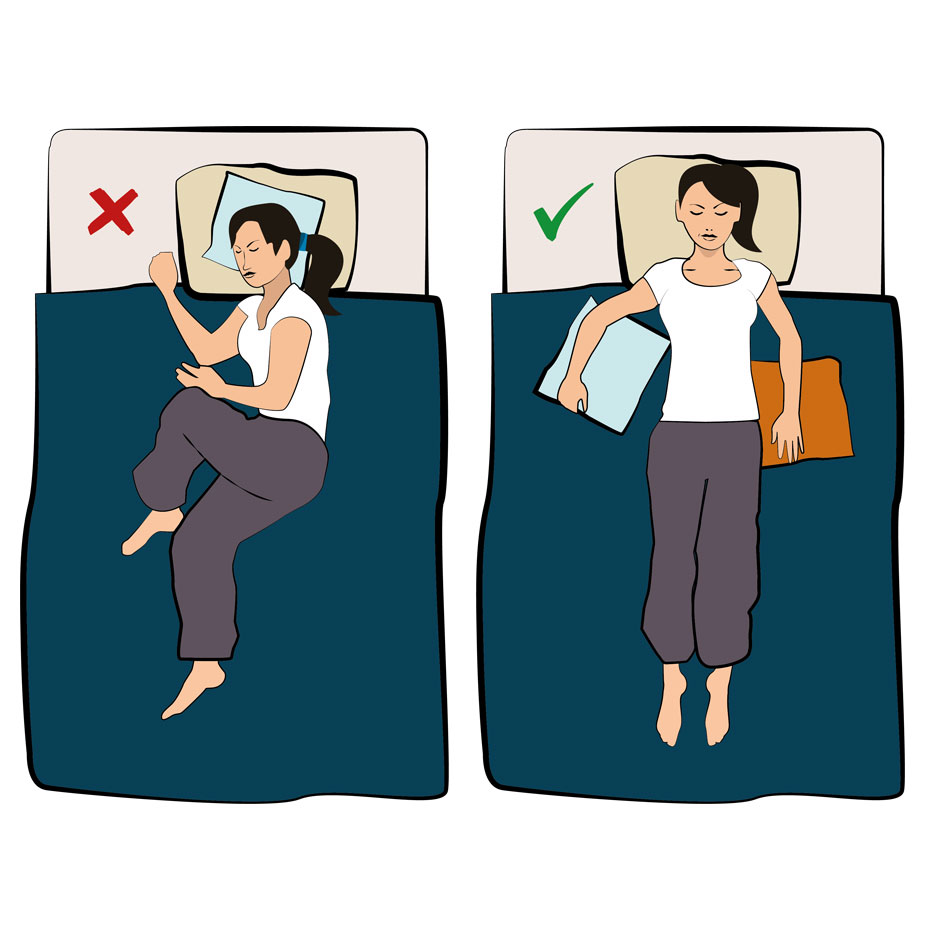 For good neck support, sleep on your back with a pillow under your head and one under each arm. A small towel rolled up under the neck can also help. When lying on your side, you should make sure that the height of the pillow is about the width of your shoulder to keep the neck in a natural position. 
Lying on your stomach is also not recommended for this type of pain, as having your head turned to one side all night puts a lot of stress on your neck. If you decide to sleep on your side, use a pillow that is as thin as possible. In the other sleeping positions, too, it is important to pay attention to the type of pillow, especially in the case of neck pain. Rolls or orthopedic pillows are best.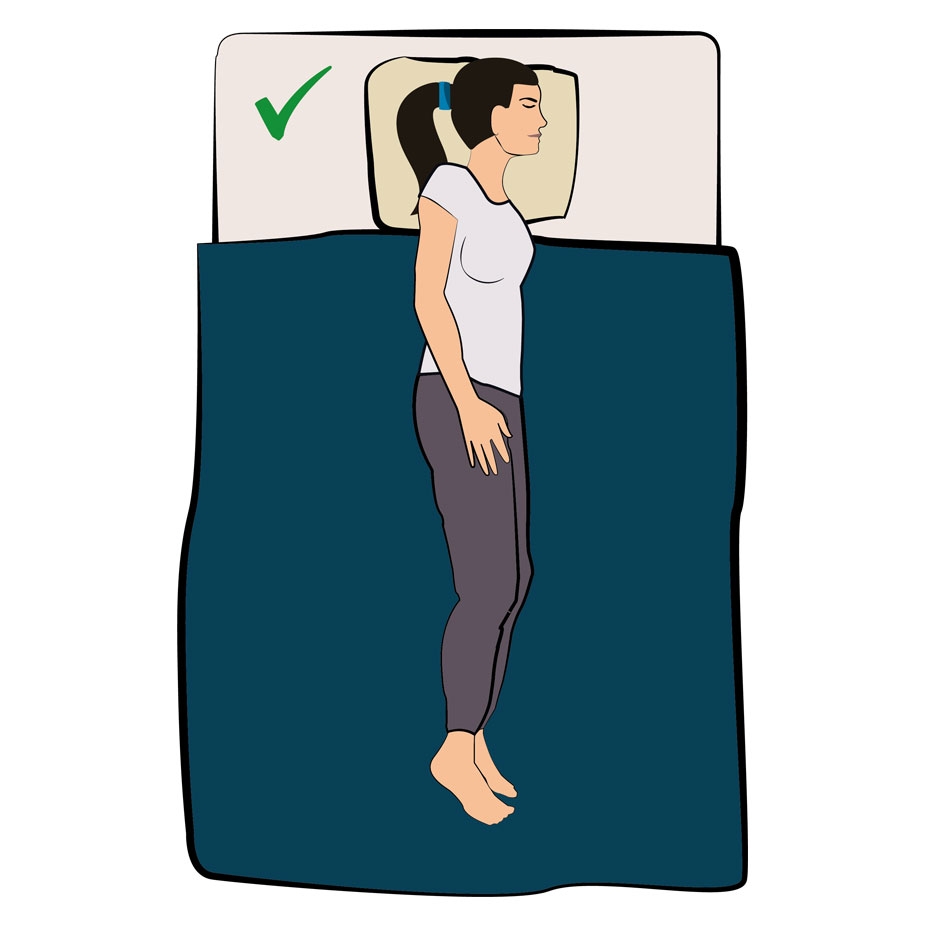 If you are regularly plagued by heartburn, it is best to sleep on your left side. This position encourages stomach acid to flow back out of the esophagus, which reduces pain.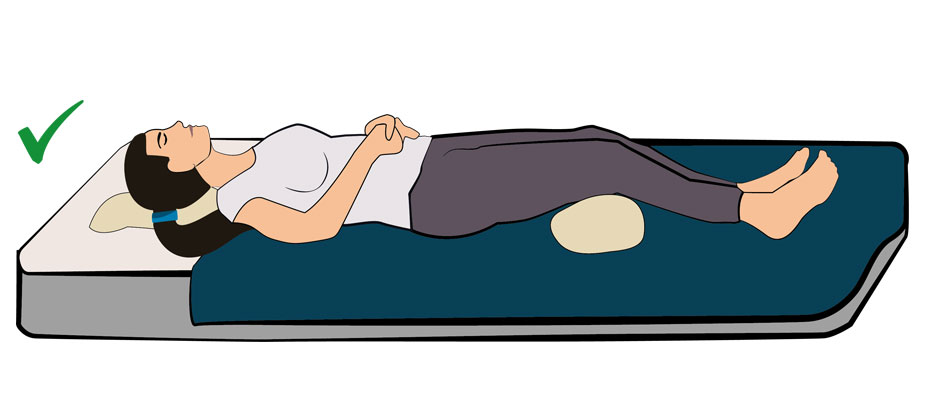 The cause of pain in the legs is often disturbed blood circulation. This can be improved by elevating your legs, for example with a roller pillow. This allows the blood to flow back to the center of the body more easily and symptoms such as cramps are avoided.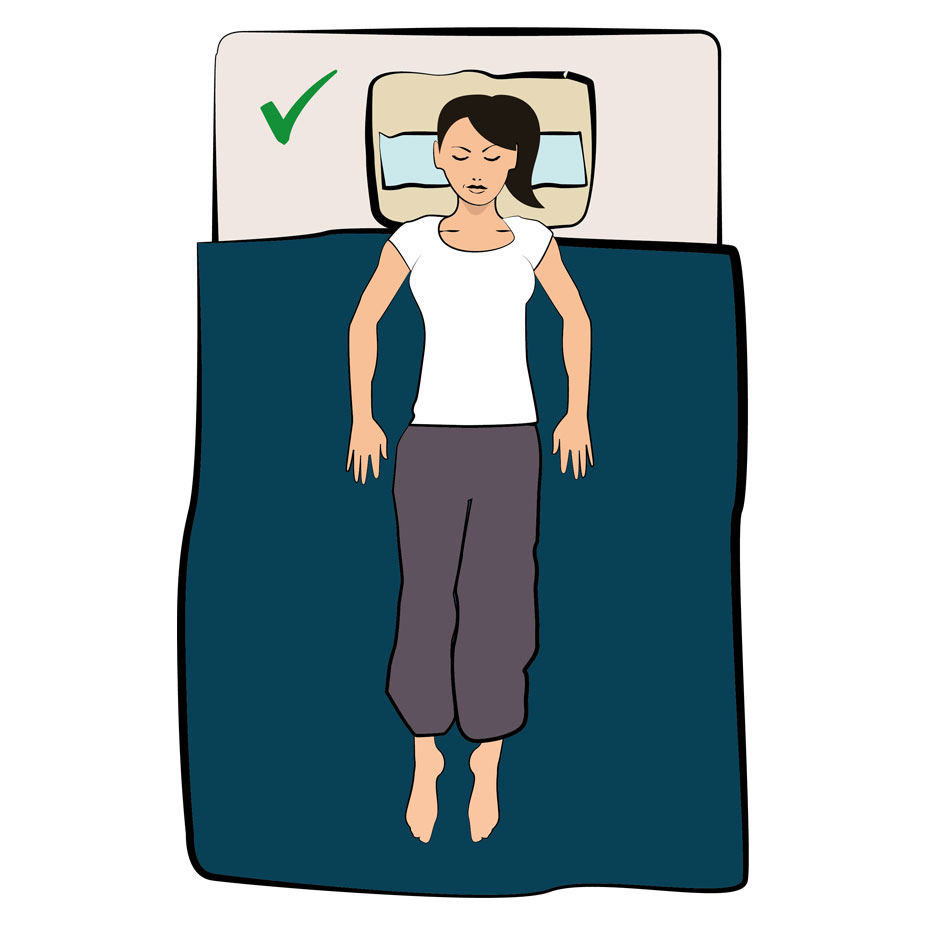 With headaches, it is important to keep your head straight and in line with your neck and spine. To do this, lie on your back and place pillows around your head to prevent you from moving it too much while you sleep.
Premenstrual Syndrome (PMS)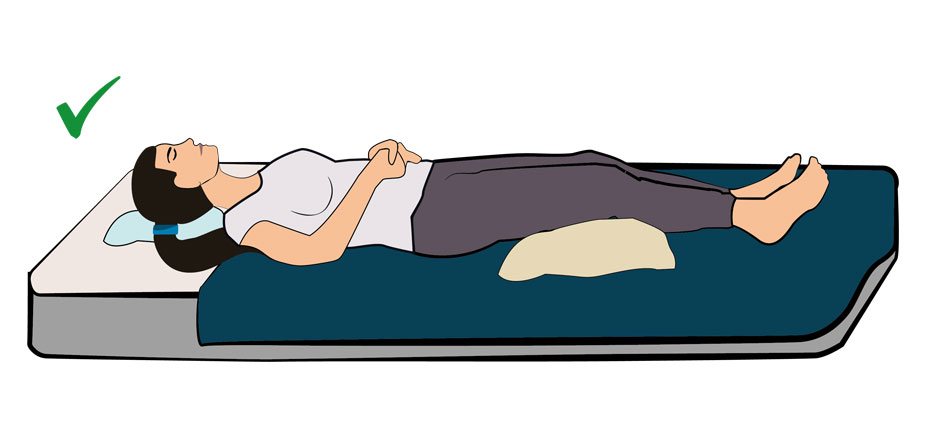 Premenstrual Syndrome, or PMS for short, includes a wide range of symptoms, such as abdominal pain, back pain, or headaches, which some women experience before their period. To counteract tension, it is best to sleep on your back with a pillow that is not too high and a second pillow under your knees.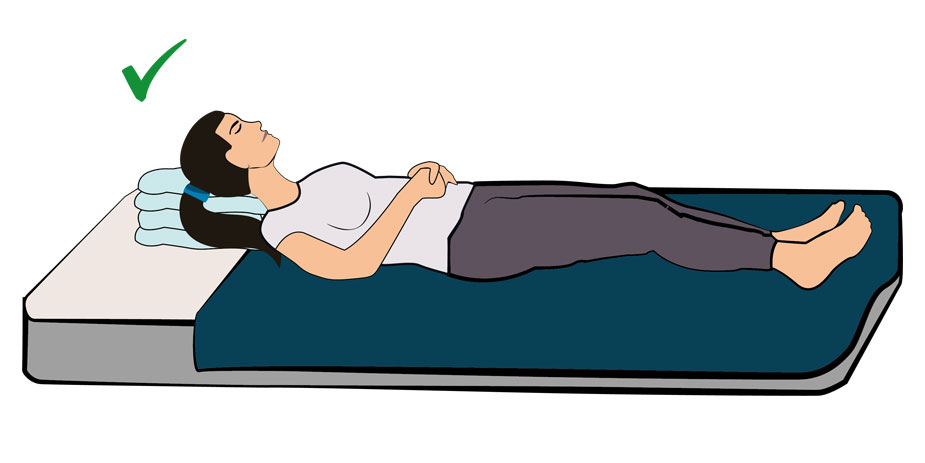 Even with a cold, you are plagued by various painful symptoms such as headaches, sore throats, and body aches. Elevating your head will help you get a more comfortable night's sleep, for example by placing several pillows underneath. This elevated sleeping position reduces the pressure on the airways, making it possible to breathe more freely and relieving the urge to cough.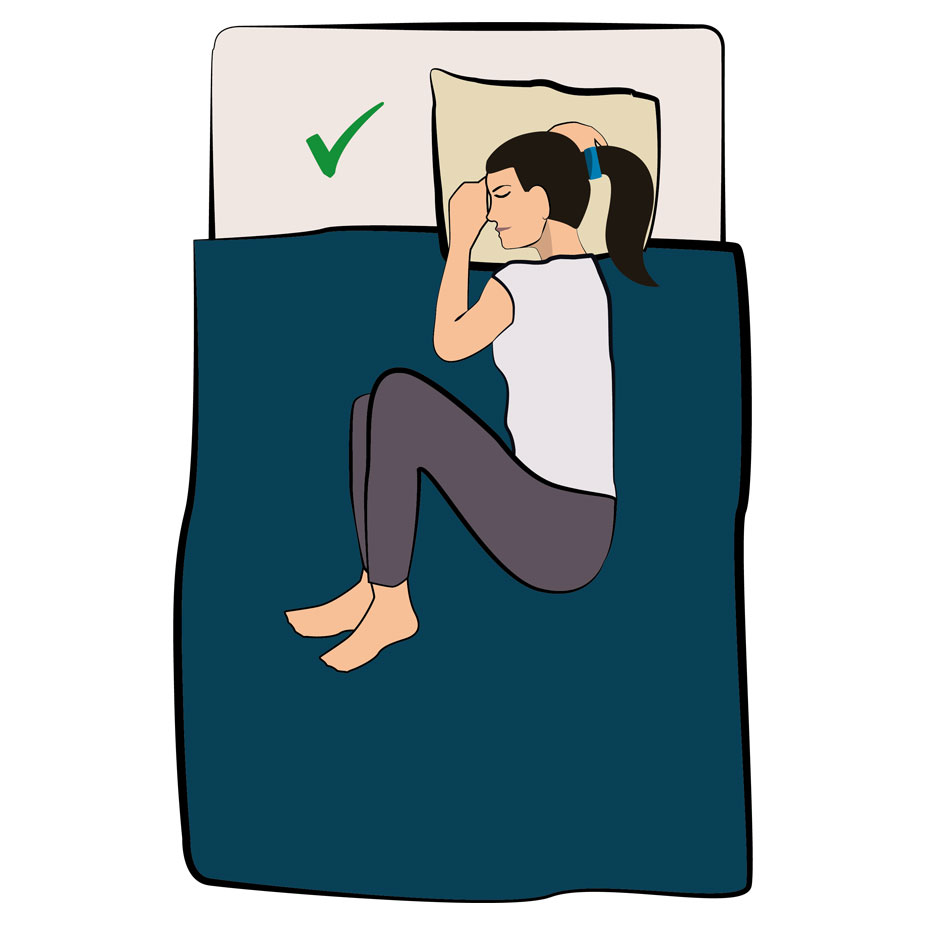 If you suffer from abdominal pain, it is best to lie on your left side and gently pull your legs towards your stomach. You can put a pillow between your knees. This position helps with indigestion and relaxes the abdomen.