What Is Meal Prep? We've put together the ultimate guide to meal prep so you can really get the most out of those hours in the muscle pad or on the treadmill.
Proper nutrition is essential. This is also clear to those who hate sports and diets. Breakfast is usually not a problem.
We all also know that a chocolate croissant does not provide the desired energy compared to a lean scrambled egg and weighs negatively on the scales.
However, knowledge alone is usually not enough to result in a new behavior. In your own four walls, this works for most people.
The problem starts with meals at work or in the evening. Here, in stressful everyday life, there is often not enough time to eat something healthy. This is exactly where Meal Prep comes in.
Reaching For Pizza When You Are Overwhelmed With Decisions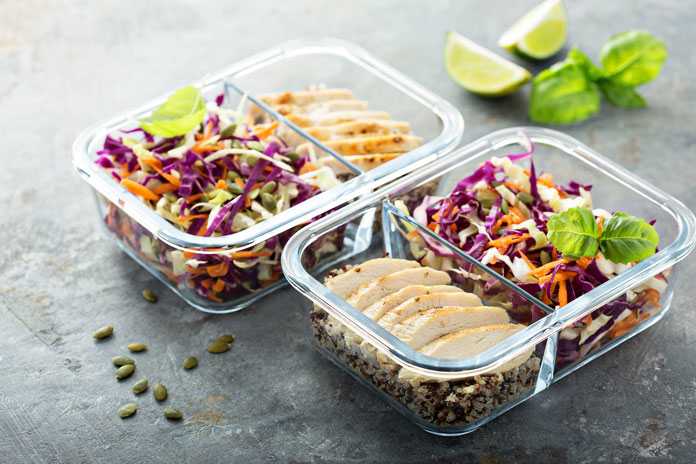 The phenomenon of mental exhaustion reinforces the qualitatively poor food choice. Especially at work, around 35,000 of us are asked to make a choice every day.
It begins with the choice of clothing and extends to far-reaching personal and professional decisions. This can lead to fatigue.
If we then have to choose a healthy, nutritious meal during the lunch break, it can simply be too much.
It's human to go for the quick, uncomplicated option in this state. The body demands a rapid supply of energy.
This is often something that brings the glucose balance back into shape but is not sustainable and healthy. It's a real vicious circle. The mind needs discipline, but for that it needs drive.
This is also a convincing argument for preparing the day before or, even better, planning the whole week.
We often lack the time at lunchtime and the energy in the evening to make healthy choices. Therefore, the packed lunch or dinner box can be a real help in the fight against the pounds or in muscle building.
Not only when and what, but also how much food we eat is proverbially "weighty" in healthy and individually adequate nutrition.
If you skip meals, you tend to go overboard at the next meal. The same goes for portions that are too big or too small.
Why Meal Prep Is Worth It?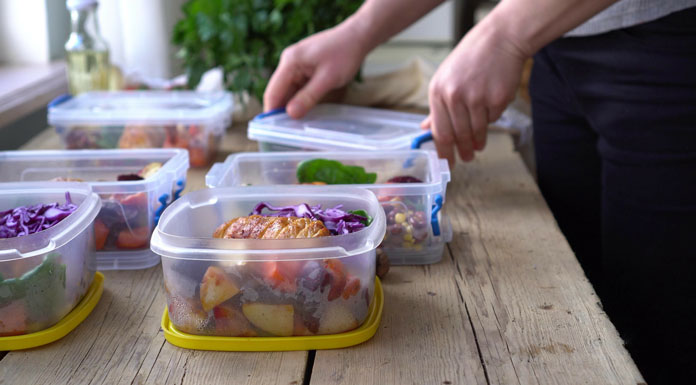 Of course, good preparation in advance with the help of a meal prep plan means additional work.
There's no denying that. The shopping list must be tailored to the week. If you cook a dish that doesn't really match the taste, you, unfortunately, have to nibble on it for at least two days.
In addition, part of the otherwise free Sunday has to be invested in pre-cooking.
In addition, there are containers such as boxes and glasses that have to be transported. These are the small hurdles that have to be overcome in advance.
However, there are more and more nutritionists and experts who are big fans of meal prep. Even if the beginning looks a bit difficult, the week turns out to be more relaxed and healthier.
What's more, meals prepared at home are a lot easier on the wallet. There are now countless guides on the subject of meal prep and with these, you can prepare menus tailored to your personal needs.
In the long run, meal prep saves time and money and relieves the otherwise rather stressful everyday life. This concept can also be worthwhile for couples.
So everyone can take over a week and the annoying question of who takes care of dinner falls under the table.
Good Preparation Pays Off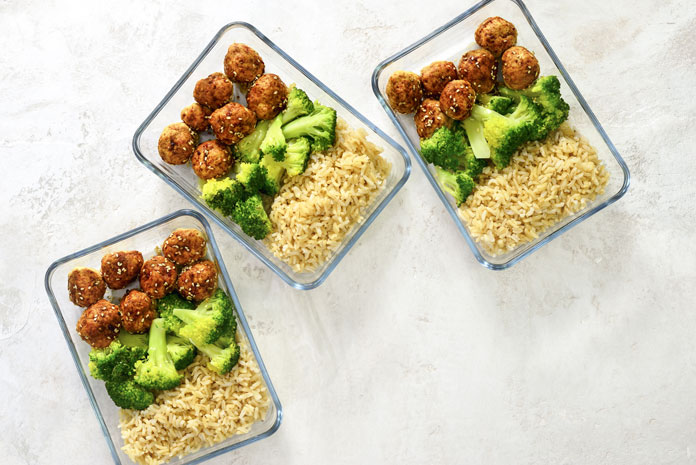 If you decide on your meal plan in advance, you can easily determine how many calories you want to eat and how much the whole thing should cost. Breakfast and snacks are relatively easy to plan.
Even dinner can easily be stored in the fridge at home. Actually, all dishes that taste good and fit into the nutritional plan are suitable here.
Lunch is the problem for many meal prep newbies. It has to be easy to transport and maybe only microwave is available.
The actual cooking must therefore take place beforehand. We have put together a few recipes and dishes for you that could also fit well in your lunchbox.
The Lunch Box For The Radiant Body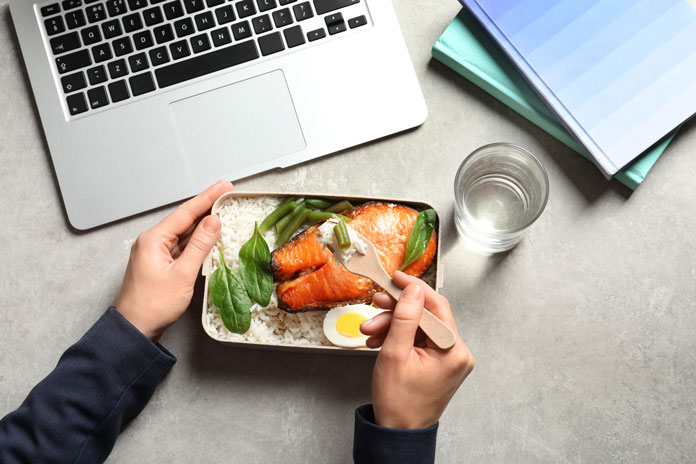 There's a very helpful and simple rule of thumb for the ideal meal for building muscle and losing weight: two hands of veggies, a fist-size of carbs, and one palm of protein.
Vegetables are essential to keep the body and mind vital. Anything that tastes good is good, ideally, it's steamed or boiled and not fried.
Filling vegetables like pumpkin and corn can also be great substitutes or supplements for carbohydrates. Potatoes or rice are very popular for carbohydrates. Both are easy to prepare and have a long shelf life.
Anything lean or high in good fats can be considered protein. Smoked fish has a long shelf life, are low in cholesterol, and has good omega-3 fatty acids. Lean or smoked meats are also very popular.
Here are two recipes for dishes that are easy to prepare, easy to transport, and keep in the fridge for a few days.
Legumes or soy products are ideal for vegetarians. Cottage cheese is filling, low-fat, and can be spiced up with herbs.
Lunch: Chicken Coconut Curry
Ingredients:
2 tablespoons oil
1 finely chopped onion
2 finely chopped garlic cloves
1 thumb-sized piece of ginger
1 yellow bell pepper 200g snow
peas or snow peas
1 large zucchini
3 chicken breasts
3 tablespoons curry paste
400g canned chopped tomatoes
200ml coconut milk
4 tablespoons chopped fresh coriander 50g
peanuts or cashews
rice
Preparation:
In a wok or large skillet, lightly sauté the onion, garlic, and ginger with the curry paste in the oil over high heat, then add the meat and lightly brown.
Cut the vegetables into cubes and add them to the pan.
Then add the coconut milk and simmer over low heat for about 10 minutes.
Cook the rice according to the instructions. The rice can also be cooked during the day.
Per Serving: Calories: 354, Protein 24g, Fat 23g, Carbs 10g
Ingredients for the sauce
1/2 tablespoon olive oil
1 tablespoon finely chopped garlic
150g finely chopped onion
900g lean ground beef
1 1/2 tablespoons Mediterranean herb mix
salt and pepper
1 tin chopped tomatoes
Ingredients for the lasagne sheets
550g low-fat quark
2 egg whites
40g grated Parmesan
2 medium-sized pumpkins
2 medium-sized aubergines
2 medium-sized courgettes
150g grated mozzarella (for the topping)
Preparation:
Preheat the oven to 430 degrees.
In a pan over medium heat, sauté the garlic, onions, and olive oil until translucent. Then add the meat over slightly higher heat.
Fry until brown. Add herbs, salt, pepper, and tomatoes. Then simmer on low heat for about 15 minutes.
Mix the quark and egg whites together in a bowl and season with salt and pepper.
Cut the vegetables into slices about 3mm thick.
Now put the vegetables in layers with the sauce in a casserole dish. Finally, sprinkle with parmesan and mozzarella and cover with aluminum foil.
Roast in the oven for about 40 minutes until the vegetables are tender to the touch. Then brown again for 5 minutes on top heat.
The healthy lasagne is wonderful to fill in portion containers and freeze. It keeps in the fridge for about 3 days.
Per Serving: Calories: 319, Protein: 33g, Fat: 16g, Carbs: 16g
For The Little Hungry Devil In Between
Whenever the energy curve goes down, the body and mind crave nourishment. Far too often we are tempted to reach for something unhealthy.
Anyone who makes so much effort pays attention to healthy nutrition and invests time and effort should not become weak with small meals.
It is therefore advisable to always have some fruit, nuts, or low-fat yogurt with you.