Best Home Gym Setup. Fitness studios are time-consuming, expensive, and offer many disruptive factors. Nevertheless, physical fitness and a good, fit appearance are incredibly important for many men.
A home gym offers a compromise between great time savings, one-time investment, and peace of mind during training. We'll show you how to set up your own home gym. We give you the options between low, medium, and high budgets.
Setting Up A Home Gym: How Much Space Do You Have?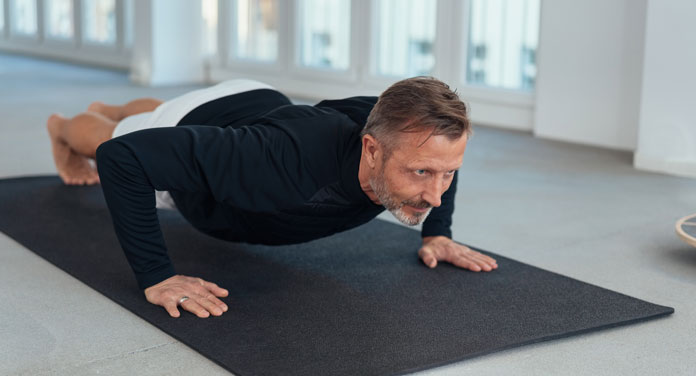 Before you go out and get your equipment, you need to consider how much space you have available. If you don't have an entire room available, then focus on lower-budget and space-saving devices. An extra room of around 12 square meters (or more) is suitable for medium to high budgets.
Setting Up A Home Gym: What Is Your Budget?
We have divided our home gym facility into three budgets. The low-budget home gym is not necessarily worse than the high-budget one. The type of exercises and the concept behind the structure is just different.
The low budget doesn't have to stop you from training successfully. The focus here is clearly on compactness and bodyweight training.
Endurance and cardio training can be implemented on a low budget with minimal equipment because basically, all you need is a training mat and sneakers. For jogging, you can just go to the front door.
If that's not possible because it's pouring rain, jumping jacks and high knees are also sufficient warm-up exercises for most training sessions at home. But make sure to pre-stretch properly and warm up your muscles properly.
The keyword for strength training on a budget is "body weight." You can use your own body weight as a training weight by doing appropriate exercises. Push-ups and pull-ups, i.e. pull-ups, are pure gold for your upper body. The former can be carried out completely without any equipment. For pull-ups you need a pull-up bar:
Our Tip: Yes4All Wall Mounted Pull Up Bar
In order to save space in your room, we have selected a model for you that is mounted on the ceiling. The model from Yes4All was convincing in our tests. You also have a hook on the bar on which you can hang a punching bag, a sling trainer, or loops for gymnastics rings.
You have three different grip options to vary between different pull-up variants and with which you can specifically train your back and upper body muscles. A maximum load of 300 lbs guarantees safe training and full freedom of movement and swing on the device.
Keyword gymnastics rings: buy them yourself. You will be able to do a lot of exercises with it that will be immensely useful on your fitness journey. Just make sure that they are made of wood and not cheap plastic.
Again, exercises for the lower body require minimal equipment. A mat on the floor for better stability and cushioned impact during jumping exercises is definitely a must.
TIP: If you've been doing bodyweight exercises for a while and need a step up without investing in equipment, get resistance bands. With this, you can make bodyweight exercises harder and also lighter. You will definitely not regret this investment.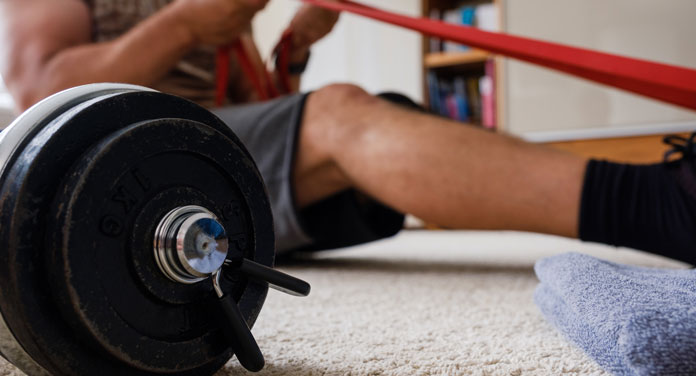 Now it starts with the first devices that you can put in your home gym to start more intensive training.
The treadmill is one of the most popular machines for cardio training. It ensures a constant load on level ground and allows fat burning to work at full speed.
But a treadmill has even more advantages:
• Simple – Apart from the fact that running is probably the most natural physical activity, the treadmill also scores with the fact that its principle is so wonderfully simple. The treadmill moves and the user moves with it. So: very simple.
• Versatile – The treadmill guarantees a wide range of running levels and thus makes the training pleasantly versatile. Whether it's a leisurely walk, a fast sprint, or a strenuous hill run. Anything is possible with the treadmill.
• Calorie Burn – While other fitness machines often support the body, the treadmill is different. When training on the treadmill, the whole body has to be moved. And thus also the entire body weight. This costs strength and thus increases the calorie consumption during the workout.
• Strengthening – When done correctly, running training has a positive effect on bones, tendons, joints, and muscles. All of this is strengthened and trained with regular training on the treadmill. And: the treadmill is cushioned. Thus, training on the treadmill is gentler than running on asphalt.
• Consistent – ​​No other piece of fitness equipment can be adjusted as well in terms of difficulty and performance as the treadmill. The constant speed depending on the setting and the selectable incline presents you with a constant challenge. 
However, even such a good piece of fitness equipment as the treadmill does not only have advantages. The disadvantages of the treadmill are:
• Fear of accidents – when training on a treadmill at high speed, there is often a fear of stepping off the treadmill, especially when they are new to the treadmill. But don't worry, this hardly ever happens, and even then only when there's a lot of distraction.
• Change in running style – if the running surface of the band seems too small, some fitness fans tend to change their running style. This can lead to postural problems.
You don't need a gym for strength training either. You can also train and build up your muscles effectively at home. If you are on a medium budget, we recommend starting with a dumbbell set. Because it is already enough to step up to light weights to increase the training intensity and promote your muscle growth.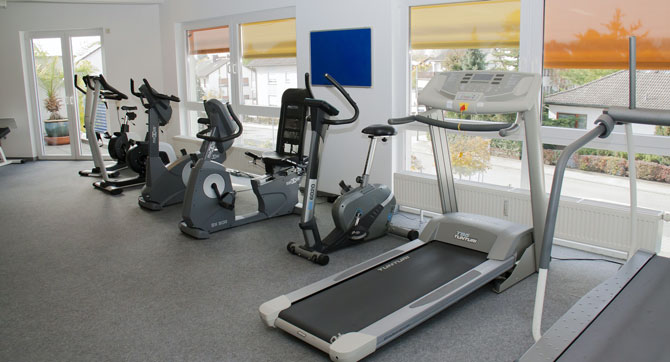 Now you've not only arrived at expensive equipment but also at an advanced point in your training intensity.
In gyms, the cross trainer is mostly used for warm-up or cool-down. You train your whole body evenly and with flowing movements. The correct training technique is specified by the cross trainer and is therefore pleasantly simple.
The advantages of cross-trainer training:
• Gentle on the joints – the joints are less stressed when training on the cross trainer than on other endurance machines.
• Variable – The cross trainer makes it possible to switch from forward to backward movement. The advantage of this is the activation and training of other muscles.
• Arm and Leg – The elliptical cross trainer is overrated when it comes to the effect of building muscle in both the arms and back. However, the activity of arms and legs when training on this device has a positive effect on calorie consumption.
• Less perceived effort – Anyone who uses both machines will attest that treadmill training feels more strenuous than cross-training.
A cross trainer also has its disadvantages:
• Predetermined movement – The movement of the cross trainer is predetermined, even guided. As a result, the cross-trainer workout is somewhat lacking in dynamics. Although the level of difficulty is adjustable, the movement always remains the same.
• Inertia – The power on the elliptical only needs to be self-sufficient for the first few movements. After that, the centrifugal mass takes over a large part of the required driving force.
• Low Joint Strengthening – As positive as the minimal stress on the joints on the cross trainer is, there is a downside to this benefit. If the joints are only lightly loaded, they are only slightly trained and strengthened.
The classic among home trainers is the fitness bike. It saves space and above all: familiarity. Most of them learned to ride a bike when they were children.
The movement sequence is uncomplicated and of course, calories are burned when training on the fitness bike. Although not as many as with a cross trainer or treadmill.
The advantages of the fitness bike:
• Individual adjustment of the sitting position and the level of difficulty
• Well-known and, above all, simple movement sequence
• Low strain on the musculoskeletal system
 
The disadvantages of fitness bikes:
• Training focused on the thighs
• Low-calorie consumption
• Stress on the intervertebral discs
A real weight bench takes up a fair amount of space. You now have a complete set with the small dumbbells. With this equipment, numerous strength exercises can now be carried out. These include, for example:
• Deadlifts
• Good Mornings
• Bench Press
• Front and Lateral Raises
• Shoulder Press
Setting Up A Home Gym: The Right Training Plan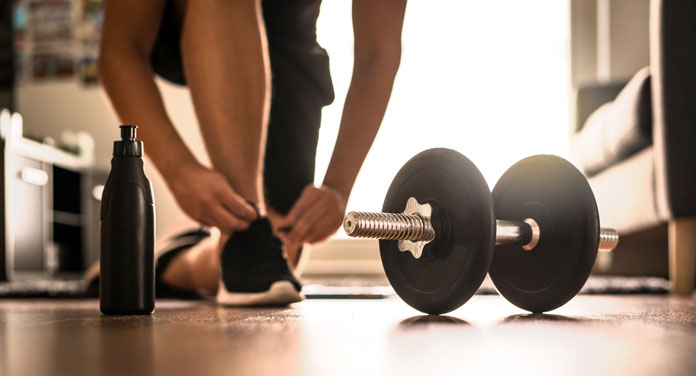 No matter which budget option you choose, you need a training plan to get you started. A low-budget home gym focuses more on isometric training plans or calisthenics exercises. Simple devices like the pull-up bar or resistance bands allow you to do exercises with your body weight and increase your mobility.
Medium and high budget relate more to training with weights and other equipment that is simply not possible with limited space. Hypertrophy training, for example, is only really effective and sensible with weights.
Setting Up A Home Gym: Our Conclusion
Workout at the gym? It doesn't have to be. You can also set up a home gym at home and easily do cardio and strength training. It is less time-consuming as there are no travel times to the studio. In addition, training at home is more fun for many people. If only because you are protected from the prying eyes of others. And most importantly, your home gym is open 24 hours a day, 7 days a week. What more do you want?!