Training With A Weight Vest ❚█══█❚ A weight vest is a versatile training device with different uses. Whether for faster muscle building, targeted fat burning, or improved coordination – training with a weight vest makes it possible to improve your form in different ways.
We will show you exactly what you can use a weight vest for, what advantages it offers you, and what you should look out for when buying such a training device.
This is a durable vest with several small pockets that can be filled with weights. These weights, in turn, can be metal blocks or small sandbags. The benefit of such a vest is that it increases body weight. During training, this supports fat loss, muscle building and increases endurance and stamina.
You can wear a weight vest for both strength and endurance training. This inevitably causes you to burn more calories as your body is put under more strain. The vest pushes your body down. Every movement of yours then requires a greater effort.
What Are The Advantages Of A Weight Vest?
Not only professional athletes train with weight vests, but also normal fitness enthusiasts. The reason for this is that you can wear it for any kind of physical activity and the vest also has different positive effects on the body. On the one hand, it can be used particularly flexibly.
Whether it's intensive strength training in the gym, jogging in the open air, or leisurely shopping – a weighted vest can put more strain on the body at any time and this means you can achieve higher calorie consumption or faster muscle growth.
The vest is also particularly easy to wear and therefore very comfortable. Unlike additional weights on the legs or arms, the weight of the vest is also shifted to the entire upper body and is no longer noticeable after a short time. Another advantage is that these vests are suitable for practically everyone. Neither gender and weight nor training experience plays a role.
Which Exercises Are Suitable Training With A Weight Vest?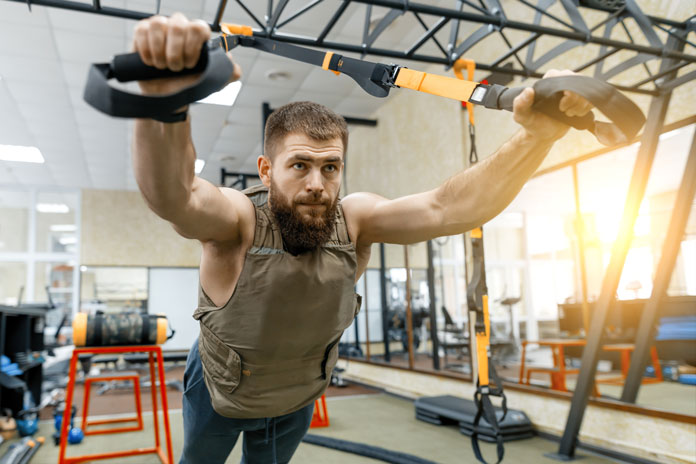 In principle, any type of exercise can be performed with such a vest. The only important thing is to make sure that it fits perfectly and is comfortable so that it doesn't bother you during training. However, forms of movement in which you lift and push your own body weight away, such as pull-ups, push-ups, squats, or sit-ups, are best.
You can also find special training vests for jogging on the market. These have a special design to give you even more freedom of movement. So if a vest isn't comfortable enough for certain exercises, it can often mean that you don't have the right model.
Buying A Weight Vest: What Should I Look Out For?
There is a wide range of different weight vests on the market. It will therefore not be difficult to find the right model for you and your needs. In the following, we will explain to you which criteria you should pay attention to when making your selection.
The weight plays the biggest role in such a vest. It is important that you make a realistic assessment of this. Many probably consider themselves a little fatter than they really are. However, if you end up choosing a vest with weights that are too heavy, you could injure yourself in the worst case. When buying a weight vest, you should first ask yourself what your goal is and whether you want to build muscle, lose weight or improve your condition.
For example, if you go jogging, you need a different weight than someone who is purposefully building muscle. The reason for this is that running, even without weights, puts a lot of strain on the joints, ligaments, and tendons. If the vest weighs five kilos, it can also feel like 10 kilos when jogging.
When buying, you also have the choice between models with permanently integrated weights and variable models where you can also adjust and change the weights. No matter what you need this piece of equipment for, you should start slowly with the weights and work your way up.
Furthermore, the material and quality or the processing of the vest are decisive. You can find weighted vests made from nylon, polyester, neoprene, and foam. Which material you choose depends on your needs. Note that you may sweat profusely while exercising.
Therefore, the material should not only be able to absorb moisture, but also be breathable at the same time so as not to give off additional heat. For this reason, it should also be possible to clean it in the machine.
As far as the workmanship is concerned, you should make sure that the vest has been sewn neatly so that it can withstand heavy loads without any problems. In addition, the shoulder area must have reinforcement. Tests show that the pressure on the vest is greatest there.
Furthermore, the vest should also be comfortable to wear. When making your selection, pay particular attention to the design. The vest should not be too tight or cut into the shoulders. However, not only the size of the vest depends on this, but above all the quality. You should therefore rather invest in a higher quality model. Such vests also have a high degree of accuracy.
In this context, it would be important, for example, that the model has adjustable buckles and straps. In this way, you have the opportunity to adjust the vest specifically to your body so that it fits snugly and comfortably. This is especially important for fast body movements such as jogging.
Finally, of course, what the training device costs you is also decisive. You can find weight vests for around $50 but also for over $200. Very expensive models do not always have to be better, they often cost more just because of the brand name. At the same time, you should not fixate on the price and choose the cheapest model. This is then probably not well processed and not comfortable to wear.
It is therefore important to find a good relationship between price and performance. What helps is to read the customer opinions about the products on the Internet. Otherwise, you can also look at other products from different manufacturers. If you have overall quality products on the market, your weight vest will probably also convince you of this point.
Can Weight Vests Be Worn In The Water?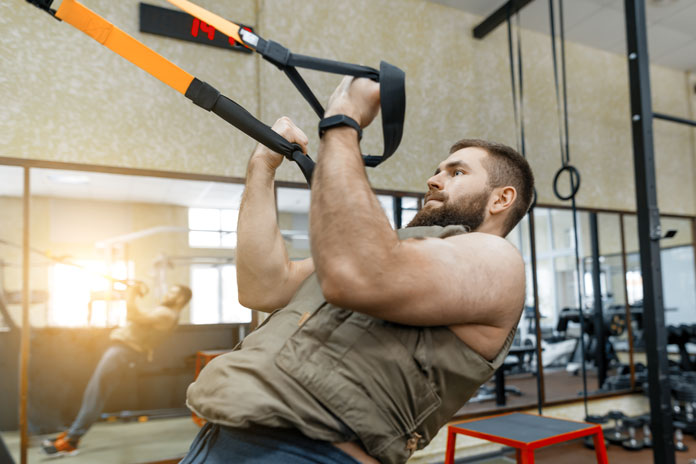 Yes, it is quite possible to wear such a vest while swimming. It is of course important that the respective model is also suitable for wearing in the water. These vests are usually made of neoprene.
This material only absorbs water to a limited extent, so that the vest hardly gains any weight. In addition, such vests should only be worn in the swimming pool or swimming pool and should never be worn in the sea.
What Should Be Considered When Training With A Weight Vest?
Many believe that they can simply put on such a vest and start training. Before doing so, however, it is important that you first adjust them precisely to your body. There are usually straps and buckles especially for this, which you can adjust in size. It is important that the vest is snug and does not slip, especially during intense movements. The vest should ideally act like extra body weight.
In addition, it is important that you, even as a pro, start with light weights at the beginning. Even 5 lb is often noticeable. Gradually you can then load the vest with more or heavier weights. However, you should not overdo it so as not to hurt yourself. Even if such training vests are suitable for jogging, it is advisable to get used to the weight and run for a few meters with the vest at first. Then you can slowly start jogging.
What Alternatives Are There To Training With A Weight Vest?
You don't necessarily need a weight vest if you want to intensify your training. Of course, such a training device has many advantages, but there are also alternatives. For example, you could fill a backpack with different things, such as water bottles or books, and carry it during your workout. Note, of course, that this does not wrap around the whole body like the vest. You should therefore not put too much strain on it, but with a maximum of 10 to 20 lb.
Then you still have the option of carrying weights for your arms and legs. These are often worn during endurance training. But also make sure not to overdo it and to choose models with low weights at the beginning. For this reason, it is advisable to always use a model where you can flexibly remove and add weights.
Conclusion On Training With A Weight Vest
While training with a weighted vest used to be ridiculed and even classified as dangerous by many, the potential of these products has now been recognized. Since they are versatile for different training sessions, they are the ideal supplement for different goals, whether muscle building, weight loss, or increasing endurance. Due to the variety of different models and the flexibility in terms of weights, weight vests are suitable for almost everyone, regardless of how fit you are.